>
>
>
High Pressure Process Filter
High Pressure Process Filter
Ⅰ. Filter Applicable Ambient
(Ⅰ)Temperature
A.Metal material applicable temperature scope:
Carbon : -10~200℃
Low alloy: -40~400℃
S.S, Ni and Ni alloy, Ti and Ti alloy:-190~400℃
B. Sealing material applicable temperature scope:
Buna-N: -30~100℃
Viton: -30~150℃
Asbestos plate: ≤300℃
Metal graphite spiral wound: ≤650℃
(Ⅱ)Pressure Rating
Filter common design pressure: 0.6Mpa, 1.0Mpa, 1.6Mpa, 2.5Mpa, 4.0Mpa, 5.0Mpa, 6.3Mpa, 10.0Mpa. When operating Temperature goes up, material's mechanical strength will go down, and its actual loading capacity will go down too, then we shall choose filter higher than nominal pressure rating to meet the requirements of high temperature.
(Ⅲ)Medium
Different filtering mediums'temperature, viscosity, physical and chemical properties affect filter's structure and material selection.
Ⅱ. Stainless steel strainer technical parameter
Mesh Qty (Mesh)

Wire

Diameter (mm)

Intercepted

Particle Size(µ m)

Active Area(%)

Mesh Qty (Mesh)

Wire

Diameter (mm)

Intercepted

Particle Size(µ m)

Active Area(%)

10

0.508

2032

64

28

0.234

673

56

12

0.457

1660

61

30

0.234

614

53

14

0.376

1438

63

32

0.234

560

50

16

0.315

1273

65

36

0.234

472

46

18

0.315

1096

61

38

0.213

455

46

20

0.315

955

57

40

0.192

422

49

22

0.273

882

59

50

0.152

356

50

24

0.273

785

56

60

0.122

301

51

26

0.234

743

59

80

0.102

216

47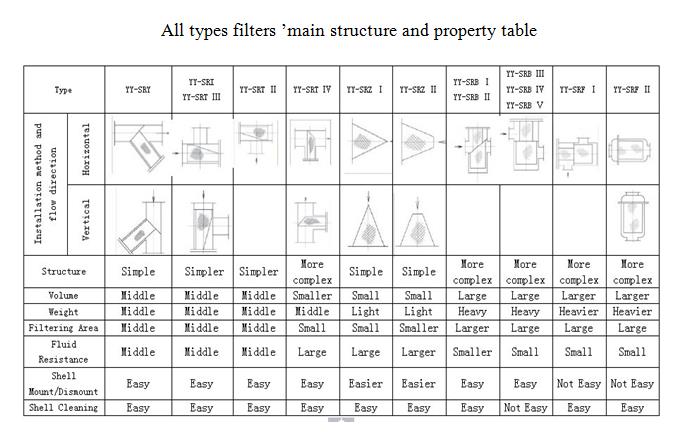 Get the latest price? We'll respond as soon as possible(within 12 hours)